Company Profiles
Company Name
KOBAYASHI AUTOPARTS
(THAILAND) LTD.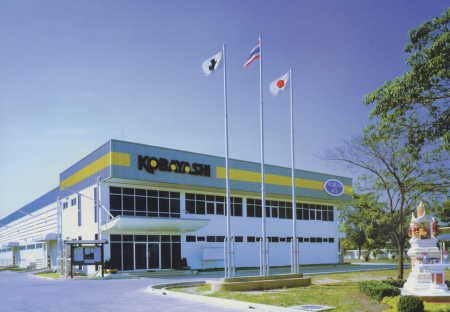 Address
141 Moo 17, Bangplee New Town Industrial Estate Soi 3,
Taypharak Rd., Bangsaotong, Samutprakarn 10570
Thailand
[map]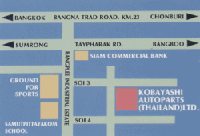 Telephone
Phone : +66-(0)2-705-6827 - 9
Fax  : +66-(0)2-315-1496
Capital
35.0 million Thai Baht
No. of employees
85 person ( Including 4Japanese ) at Jan.2020
Site area
7,200 sq. m. ( 4,100 square meters of floor space.)
Certificate
ISO 9001/14000
Industry contents
Manufacture of parts for motorcycles and automobiles
(Metal Press working, Welding, Machining)
Major Products
Transmission parts manufacturing for motorcycle(Press/Welding)
and Engine parts
Lathing parts for Gear Blanks
Lathing parts for Bearing Outer/Inner
Main Customers
THAI YAMAHA MOTOR CO.,LTD.
THAI SUZUKI MOTOR CO., LTD.
TRIUMPH MOTORCYCLES (THAILAND) LTD.
Harley-Davidson Motor Company (USA & THA)
NSK BEARING MANUFACTURING(THAILAND) CO.,LTD
THAI MIYAKE FORGING CO.,LTD.(JTEKT(T) CO.,LTD.)
OGUSU (THAILAND) CO., LTD.
IHARA MANUFACTURING (THAILAND) CO., LTD.
PT. KOBAYASHI AUTOPARTS INDONESIA
(FOR PT. YAMAHA INDONESIA MOTOR MANUFACTURING)
AKITA ATSUMI KOGYO CO.,LTD
AKITA ATSUMI KOGYO CO.,LTD

KOBAYASHI INDUSTRIAL CO.,Ltd.

History
1996 / Oct' 2
Establish company at Bangplee industrial estate.
1996 / Dec.
Delivery start to SIAM YAMAHA MOTOR.
1997 / Aug.
Economy recession.
1998 / Apr.
Start sintered metals machining.
1999 / Dec.
Starting motorcycles parts exporting.
2001 / Mar.
Start new factory construction.
2001 / May
Starting sintered metals parts exporting for Japan.
2001 / Aug.
Our own factory completed in Bangplee industrial park, running.
2002 / Jan.
Grand opening ceremony.
2004 / Mar.
Factory expansion (2nd PHASE) .
PT.KOBAYASHI AUTOPARTS INDONESIA establishment.
Started export of assembling parts to Indonesia from Thailand.
2005 / Apr.
Factory expansion (3rd PHASE) .
2007 / Sept.
ISO14001: 2004 certification.
2009 / June
ISO9001:2008 certification.
2011 / Mar.
Bearing parts turning business start.
2013 / Sept.
2nd Factory completed.
KOBAYASHI
AUTOPARTS
(THAILAND)LTD.
141 Moo 17,
Bangplee New Town Industrial Estate Soi 3,  Taypharak Rd., Bangsaotong, Samutprakarn 10570 
Thailand
Phone;
+66-(0)2-705-6827
FAX;
+66-(0)2-315-1496